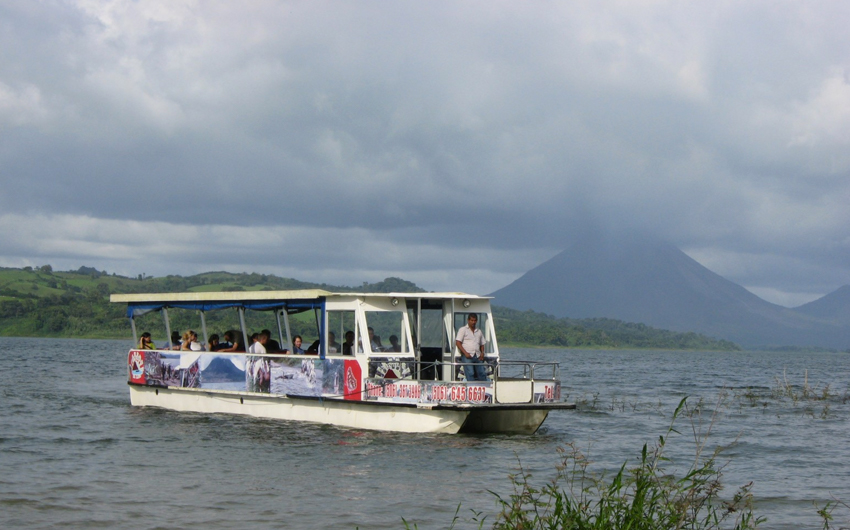 - Gallery -
Jeep-Boat-Jeep Arenal & Monteverde Lake Crossing
Transportation between Arenal and Monteverde. 3 hour ride between the two destinations, crossing the lake on a boat, saving time and money. Two departures 8 am and 2 pm. Arenal to Monteverde and Monteverde to Arenal. You will specify later your pick up and drop off hotel.

Children from 3-11 have a discounted rate. The shuttle waits for 10 minutes for the passenger at the specified hotel pick up. After 10 minutes the shuttles leaves since it has an itinerary and needs to pick up other people. Every passenger can have 1 piece of luggage and 1 carry on. The company it's not responsible for lost and stolen luggage due to unattended property. Surf boards have an extra charge of $15. The shuttles makes one 15 minute stop in between destinations for bathrooms and snacks. The company it's not responsible for changes in ferry times or lost luggage in the ferry. The company can change the route of the drive based on closed roads due to weather, accidents, road works or roads closure. No pets allow unless service pets with certified documents. No passengers will be transported in under the influence of alcohol or drugs.
Select your check-in information:
---
Select the hotel (place) and time where we wil pick you up :
The place indicated be used as a reference and is subject to change after confirmation.
Appropriate pickup time will be confirmed by e-mail and is subject to change after confirmation.
---
---
Current Selections
No service selected. Click here to view all our services