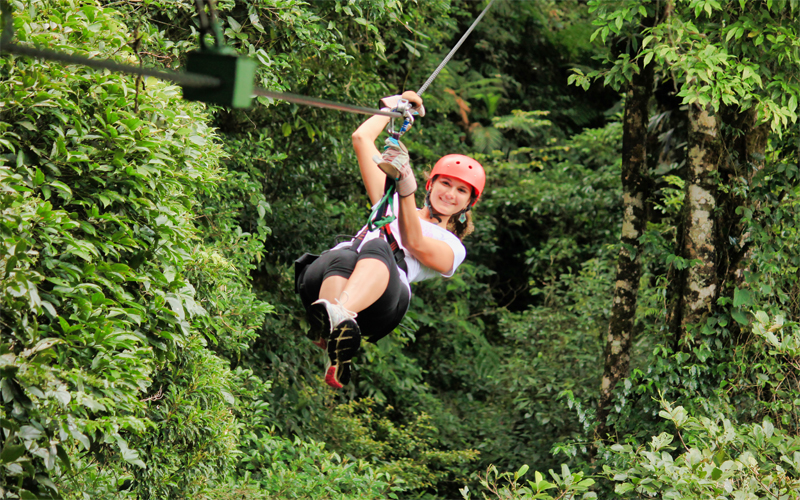 - Gallery -
Canopy Tour
Selvatura Park offers its unique Canopy Tour adventure! Our tour is the only zip-line tour built entirely inside the cloud forest. In this tour, visitors cross through the unique cloud forest canopy suspended over the forest while attached to high weight-capacity cables and using the specialized climbing gear. This provides wonderful experience and sensations only comparable to flying through the forest. This tour not only combines the thrill of one of Costa Rica's most safe and popular adventures, but also provides a unique vantage point of the cloud forest which in the past was reserved only to certain scientists brave enough to climb up to the forest canopy.

Our tour features a large Tarzan Swing where those with an adventurous spirit will surely get a blast. The Tarzan Swing is a side activity included in the tour where we give our visitors the option of swinging through the forest while attached to a high security rope.

Also you may upgrade to do the last cable in Superman Style for a fee. Here you will have the opportunity to truly experience the sensation of flying through the forest using a special superman harness and gear only offered by Selvatura Park in Monteverde which makes this activity super enjoyable and super safe.

The Canopy Tour features 13 cables, including a 1 km cable, 15 platforms and one Tarzan Swing. There is a total of 2.2 miles of total cable length. It is suitable for people of all ages although it's not recommended for certain people with extreme weight excess or pregnancy.

Select your check-in information:
---
---
Current Selections
No service selected. Click here to view all our services